GU631A-00 Generator Controller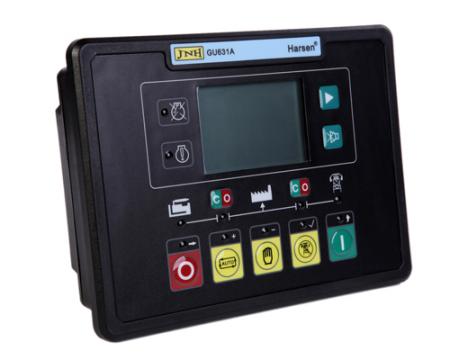 GU631A-00 is a new generation on single generating set intelligent controller which is new shape and structure. It has improved the performance of the controller so that the new product can meet the needs of the user and generator assembly plants for different types, including oil and gas generators of Automatic switch control generation and protection needed.
GU631A-00 is an Automatic Mains Failure controller which can detect a fault in the mains and automatically switch over onto standby power.
Features:
1, Voltage and current are using the true RMS measure;
2, Menu can be chosen in multi-languages;
3, Using 128 * 64 dot matrix LCD display;
4, Providing time presets and reminds function in unit maintenance;
5, 4 configuratable control relay ouputs, and a variety of sensor selected in it, you also can set parameters;
6, More defined auxiliary control relay output;
7, More definable isolating switch input;
8, The buttons of panel operation are used to select the control model, the start model, and to stop the operational procedure, data display, and to modify the operating protection parameters.
9, Configuring with RS485, and optional RS485 or RS232 communication.
10, Configuring with USB communication port and communication with PC, you can read and set the controller's parameters;
11, Configuring with GPRS-DTU module, can meet controller emergency messaging function and wireless network monitoring function;
12, Optional CANbus communication port, you can read and control parameters on the ECU engine;
13, All connections of the controller are by secure plug and socket. It's very easy and convenience for the equipment's connection, moving, repair, replacement.
14, Configuring ultra low temperature function, then this controller can running in temperature from -40 ℃ to 70 ℃.
15, Calendar and time display.
16, Event record and measuring parameters record.
17, Realizing scheduled time to start and shutdowm.
Remark: Please click
here
to to register if you want more detail info of our products.